To store digital currencies, you need a digital currency wallet, just like you would require a cloth, leather, or other forms of wallet to hold banknotes. A wallet, which comes in several varieties, is a useful instrument for keeping cryptocurrency that is synced with the blockchain for this purpose. Users of cryptocurrencies must identify their digital currency wallets since this is a sensitive and crucial duty.
Your private key and public key are a straightforward combination for each kind of wallet. You may divide digital currency wallets into the following categories based on their function and storage.
     1.Mobile wallet
We'll start with the most basic and popular kind of wallet: mobile wallets. With a mobile wallet, you may quickly access your digital assets from any location at any time using only a cell phone. The most popular form of wallets on the market right now are mobile wallets for Bitcoin and other cryptocurrencies. The reason for this popularity is that it is accessible by mobile phone and it is easy to use them.
Although it is feasible to transfer cryptocurrency using these programs, and they often have a user-friendly design, it is important to evaluate mobile wallets first based on the following criteria before placing trust in them: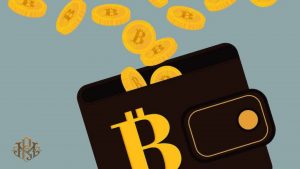 the possibility of controlling the private key in the wallet
Simple user interface for ease of usage
Number of active users and user comments
Strong support and security
support for several operating systems
       2.Desktop wallet
For storing bitcoins and other digital currency, desktop wallets are simple to set up; these Volts support desktop Operating system systems including Mac, Linux, and Windows. Any legitimate cryptocurrency may be kept and maintained using a desktop wallet, but since your desktop or laptop is frequently linked to the Internet, you must take the necessary security precautions for your system to prevent hacking and malware threats. As a result, if your wallet is the desktop type, it is recommended to set up a reliable antivirus and firewall on your computer.
It's interesting to note that desktop software wallets initially only operated on one system (the one on which you installed the wallet), which might have been advantageous for security reasons. However, over time, this feature was accompanied by user complaints, which ultimately resulted in its removal.
      3.Hardware wallet
The most secure type of wallet for long-term storage of digital currency are hardware wallets. In actuality, hardware wallets are hardware devices created especially to manage private keys and public addresses, as their name implies. So far, there have been no reports of currency being stolen from these wallets.
These wallets are also resistant to computer viruses. A hardware device typically costs between 39 and 450 dollars, but for the added security, it is absolutely worth the cost. This cost is for the most widely used hardware wallets, which support storing over 22 different cryptocurrencies (including BTC).
     4.Web wallet
The security of online cryptocurrency wallets is often low; however, this Volt model is always linked to the Internet and can be accessed from a variety of browsers, including Google Chrome, Firefox, and Internet Explorer. To access your online and web wallet, just type its address or URL into your browser's search box. These volts are also vulnerable to DDOS assaults.
One of the most important things to know about this type of wallet is that you do not have access to the private key of your cryptocurrency wallet. This also implies that in the unusual event that the exchange is compromised or shut down and you lose your digital currencies, the best course of action is to utilize a hardware wallet (the most secure) or a mobile wallet (medium security).
     5.Paper wallet
A paper wallet is basically a piece of paper with a QR-coded inscribed on it encoding encrypted data. When Bitcoin was emerged in 2008, paper wallets were thought to be the only secure way to keep cryptocurrency. As a result, only a small number of individuals have recently been able to purchase and store BTC. There are now other wallets that allow consumers keep their bitcoin holdings, thus having a piece of paper is no longer necessary thanks to technological advancements. Your private key is kept offline by this wallet. A paper wallet is simply a piece of paper that has your public address (Bitcoin receiving address) and private key of your wallet.