How is the fantasy football game in Telegram? Fanton brings blockchain-based fantasy football to Telegram thanks to the recent integration of the IM service with the TON blockchain. In this article, we explained about this game, so stay tuned to the Pooyan Music site.
Fantasy Football game in Telegram
What better way to introduce new users to Web3 through gaming than by combining the world's most popular sports with the most social aspects of Web2? Association football or soccer has the largest fan base among sports enthusiasts, with an estimated 3.5 billion people rooting for their favorite teams. Created primarily for football fans, the fantasy sports industry is a large network of virtual sports leagues where users can create their own teams. This industry can grow and become a $25 billion global market.
Combining fantasy football with blockchain features such as non-fungible token (NFT) cards could create an ideal entry point to Web3 for the masses. However, current platforms offer complicated mechanisms for newcomers and most of them lack in-platform interaction with the user. Given the social aspect of fantasy football, that's a huge loss.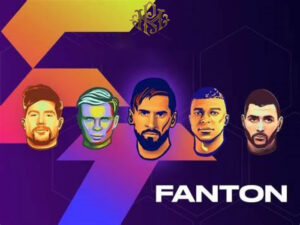 Football superstars as collectible cards
Fanton created a fantasy football game that was integrated into Telegram to take advantage of the instant messaging service's 800 million user base. It has collectible cards of top soccer players that earn points based on their actual performance. These cards are issued on the blockchain as NFTs and can easily be traded between players.
This game takes advantage of Telegram's recent integration with the Open Network (TON) blockchain. It provides the possibility to use the offline wallet directly from the Telegram app. Users can create a virtual soccer team with their player cards and earn points for their players' actions in the real world.
Teams consist of five players: a goalkeeper, a defender, a midfielder, a striker and a substitute. These players earn points based on their performance in their real football matches. Points are awarded for various actions such as goals, assists and saves by the goalkeeper. Total points are equal to team points.
Matches are based on the matchdays of real football leagues, including the English Premier League, Spanish La Liga, German Bundesliga, Italian Serie A and French Ligue 1. Leagues, the Brazilian Championship and the European Champions League, the most prestigious championship in the world.
What is the reward for teams with more points?
Users can join these competitions by paying the participation fee, 85% of which will be added to the prize collection and 15% will be given to Fenton. Teams that score more points than others are rewarded with TON coins and collectible cards.
Cards are divided into rarity classes based on rarity, which gives them value and uniqueness. Non-NFT cards are classified as common, while NFT cards can have rare, epic, and legendary items. The game is free and offers regular cards at no cost to anyone who wants to participate. Rarer NFT cards must be purchased to participate in special NFT tournaments with higher prizes.
Fanton has more than 350,000 users and its monthly revenue is more than $40,000. With an experienced team of 15 people based in Spain and Indonesia, the game raised $300,000 in an early round in February.