On this week's Market Talks, Cointelegraph is pleased to host Grant Shears, the creator of Blocmates, a training and consulting firm that strives to produce crypto, decentralized finance (DeFi), and Web3 curriculum that is simple enough for anybody to grasp.
In order to get things started, the show looks into the upcoming trends for 2023 and what consumers might expect. What sectors could have the most growth potential this year, and which industries have the best chance of actually taking off?
It's evident that 2022 wasn't the best year for DeFi; the sector, it might be argued, collapsed on itself by promising unreasonably high yields that ultimately led to the model's failure. Host Ray Salmond, the head of markets at Cointelegraph, asks Shears whether any initiatives are planned for this year that aim to address this issue and what a potential solution may include.
Since returns have climbed from around 1% to 3.5%, and in some cases 4.65%, traditional finance (TradFi) appears to have caught up to digital financing (DeFi). TradFi also offers a sense of protection and security. Compared to DeFi, where customers must assume more risks in order to obtain bigger yields, there are less dangers involved. Salmond asks Shears for clarification on how DeFi may position itself in this setting.
Have you ever heard of NFT-Fi? No? It's not just you. Despite being around since 2020, nothing is known about it or its potential. Salmond and Shears discuss what it is and the issues it seeks to address in this episode.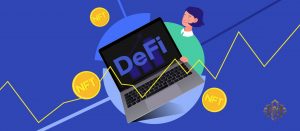 The good ol' technical analysis comes next. In order to learn what fundamentals Shears is presently following and how he is trading this particular market, the show looks at Bitcoin, Ether, and a few altcoins. Salmond and Shears also talk about the recent price surge for Bitcoin and if it represented a change in trend or merely another bull trap.
With the Shanghai update, new staked ETH unlocks are generating a lot of interest. Salmond asks Shears his opinion on the upgrade and if he thinks the DeFi bull market will be sparked by this or another instance of "buy the rumor, sell the news" like it did with the Merge.
And lastly, the age-old query: What will entice individuals to return to cryptocurrency? Will investors start showing interest in the sector again in 2023, or will we have to wait until 2024 before anything of substance happens?
To learn all of these ideas and more, make sure to listen all the way through. Throughout the presentation, Cointelegraph will also be taking your questions and comments, so be prepared with them.
Live streaming of Market Talks begins every Thursday at noon ET (5:00 pm UTC). It includes conversations with some of the most inspiring and prominent figures in the cryptocurrency and blockchain fields every week. Therefore, for all of Cointelegraph's upcoming videos and updates, make sure to visit our YouTube page and click the like and subscribe buttons.