Top crypto analyst calls Solana the new Ethereum. In this Pooyan Music post, we want to see if Solana is better or Ethereum?
Is Solana better or Ethereum?
Solana's strong performance may make it the new Ethereum in the future uptrend.
The world of digital currencies is vast, with countless assets vying for attention. For a long time, Ethereum (ETH) has held a special position. It initially operated as a non-consensus asset in 2018 and 2019. But then, Ethereum got a lot of attention. And now it has established its place as the top currency in the DeFi space.
However, the tides of the crypto world are always changing. Now a new challenger is on the rise: Solana (SOL). Prominent cryptocurrency analysts now claim that Solana is the "strongest non-consensus asset" in the current bear market. Such bold claims are not easy. But Solana's recent performance provides significant support for these claims.
An examination of Solana's daily chart shows an explosive trajectory. After a series of fluctuations, SOL has shown a strong upward trend and has attracted the attention of investors and enthusiasts. Ignoring the peaks and valleys, Solana's overall movement portrays uplifting emotions.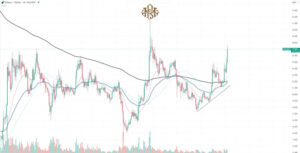 What is the advantage of Solana?
But what makes Solana stand out in the crowded crypto domain? One of the key events that bolstered its credibility was its resilience during the FTX crash. FTX, a leading digital currency exchange, was one of the main owners of Solana. Despite concerns of potential market manipulation or undue influence, Solana has shown stability and growth even after the FTX crash. The event not only boosted investor confidence, but also demonstrated Solana's inherent value and potential for longevity in the crypto arena.
Solana is now in an advantageous position. Solana holders are the main supporters of this currency. And the Solana ecosystem is growing. Developers, startups and enterprises are increasingly turning to the Solana blockchain for its speed, security and scalability.