What does the growth of the Bitcoin Lightning network by 1200% in the last 2 years mean? In this Pooyan Music post, we take a deeper look at the Lightning Network and its future.
The growth of the Bitcoin Lightning Network
A report from Bitcoin-only exchange River suggests that increased use of Lightning is playing a key role in making Bitcoin a better medium of exchange.
According to Bitcoin Data, Bitcoin's Layer 2 Lightning Network has grown by 1,212% in two years, with around 6.6 million transactions in August. This is a significant jump compared to 503,000 transactions in August 2021.
In a report on Oct. 10, River Research analyst Sam Waters explained that the jump in routing transactions — which use more than two nodes to facilitate transfers — came despite a 44 percent drop in the price of bitcoin.
In a subsequent X (formerly Twitter) post on October 10, Waters said that "no one uses Lightning." It should be a dead meme by now.
The 6.6 million rever figure for Lightning routing transactions is a lower estimate. The smallest possible value it can evaluate to. The firm also provided the August 2021 figure of 503,000 from a 2021 study by K33, formerly Arcane Research. The company also added that it could not evaluate Lightning's private transactions or transactions between the two participants.
The transaction volume of 78.2 million dollars in Lightning in August 1402 shows an increase of 546% compared to the figure of 12.1 million dollars in August 1400. Waters noted that Lightning currently processes at least 47 percent of Bitcoin's on-chain transactions.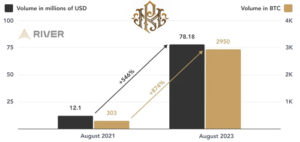 The growth of Lightning, a promise for Bitcoin to gain strength
He added: "This is an interesting measure to investigate and study further." This represents the conversion of Bitcoin into a common currency.
In August 1402, the average Lightning transaction size was about 44,700 satoshis or $11.84. River is estimated to have between 279,000 and 1.1 million active Lightning users in September.
The company attributed 27 percent of the transaction growth to the gaming, social media tipping and streaming segments.
River said Lightning's payment success rate in August 2023 on its platform was 99.7% in 308,000 transactions. The main reason for failure occurs when no payment channel can be found that has sufficient liquidity to facilitate the transfer.
River's dataset contained 2.5 million transactions. River dataset nodes represent 29% of the total network capacity and 10% of payment channels.
Have you used the Lightning network for your Bitcoin transaction and storage? Share your experiences with us in the comments section!