The digital currency market is constantly threatened by profiteers who try to steal other people's digital currencies through various hacking methods. Therefore, one of the most crucial first steps to entering this industry is to have a straightforward and secure way of storing digital currency. You may use a variety of hardware and software wallets, as well as the wallets of trustworthy exchanges, to store digital currency. The Trust wallet is one of these software wallets; in the following sections, we'll analyze it and show you how to use it. Trust Wallet is a mobile application that allows users to send, receive and store digital currencies (multi-currency wallet). This wallet is accessible on Android and iOS platforms, has a straightforward style, and offers a user-friendly platform.
What is a Trust wallet?
Binance acquired Trust wallet in 2018 to offer a superior service. You don't have to provide your email address or user ID to build Trust Wallet because it is a decentralized digital currency wallet. Beginners and users who dislike using applications with a sophisticated interface and appearance may find this wallet a very suitable choice.
Secure and safe
Available and free
Simple, easy to use, and user-friendly
setting a password to access the wallet
Possibility of simultaneous installation on various mobile devices
available on the iOS and Android operating systems
Keeping private keys on a user's computer or device
a complete inventory of assets and the most recent cryptocurrency pricing
Swap (possibility of converting currencies in Trust wallet, in the currency exchange section)
The potential for staking ( Trust wallet provides its users with the possibility of earning profit from digital assets with a flexible interest through digital currency staking .)
Some disadvantages of Trust wallet:
Available exclusively on mobile
Unsecure compared to a hardware wallet
Trust Wallet security level
This wallet includes several security features to protect users' money. It's admirable how hard the creators worked to keep Trust Wallet customers' information private and avoid collecting and storing it. As is evident, the most crucial factor to consider when selecting a digital currency wallet is security. Consequently, some security features of this wallet are mentioned in the following.
Open source: Since this wallet is open-source, you may review its source code to ensure there aren't any bugs or difficulties with the application (assuming you have the necessary technical skills). However, it is essential to note that hackers and other cybercriminals may misuse these codes if they discover a security flaw in them rather than reporting it.
Non-custodial: Because this well-known wallet is non-custodial, your private keys for cryptocurrencies are never kept on remote servers and are encrypted and saved on the smartphone's memory.
Backup: You will be given 12 recovery words when creating your account in the Trust wallet program. You can quickly type these 12 phrases to restore your digital currency in another device in case of any issues, such as phone theft or loss, application deletion, etc.
What is the trust wallet encryption's key order?
When logging into the program, you should create a password for additional security. Go to the settings first, then the security section, and then take the following actions:
Select a password with six characters.
You must input this 6-character password each time you want to log into the software or sign a transaction.
In the event that you forget this password, you can reset it by using the recovery phrases.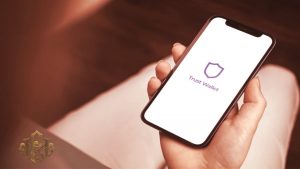 Keep a backup of your Trust wallet.
This wallet cannot be accessed when the app is removed, damaged, or broken since it is installed on your phone. You can create a backup copy of your wallet from the beginning to prevent such issues. Otherwise, you won't be able to re-enter the wallet in any other method if, for any reason, you lose access to it. Making a backup copy means noting down the 12 recovery words or Recovery phrases that will be shown to you during the wallet installation. Since there is no registration of your phone number or email address; the only method to access your wallet is to enter the 12 recovery words.
Exchanging currencies in Trust wallet.
To facilitate cryptocurrency trading, the Trust wallet establishes a direct connection with Binance Dex, the Binance Decentralized Exchange. By using this facility, which functions like a regular exchange, you may view the order book and buy and sell orders. Only BNB and BEP2 money can be exchanged at this time. Just be aware that choosing this option will result in paying a network charge.
Which cryptocurrencies does Trust wallet support?
It supports numerous digital currencies; such wallets are referred to as multi-currency wallets. You can store millions of tokens, including all ERC20 and ERC223 tokens, as well as several cryptocurrencies based on the BEP20 and TRC20 standards, thanks to Trust Wallet's compatibility for more than 30 distinct blockchains, including Ethereum (ETH), Binance Smart Chain, and TRON.