What is an NFT whitelist and how can it be used? As you know, most people in the world are familiar with NFTs these days. For this group of people, it is very important to know all the concepts used in the NFT market. You can learn more about the most important concepts in this field, such as the white list, from Pooyan Music website.
What is an NFT whitelist?
An NFT whitelist is a list created by an NFT project that contains the addresses of wallets or accounts that are specifically invited or allowed to access certain products or services. By adding a specific address or account to the whitelist, the owners of those addresses can access and participate in exhibitions, special benefits, initial public sales or other activities related to the NFT project.
NFT whitelist applications
NFT whitelists allow developers to control who can access products and services associated with NFT projects. In this way, developers can save access costs, open competition with minimal problems and better guarantee the security of their projects for users.
In some NFT projects, the initial public sale is done through a whitelist. This means that only whitelisted addresses can participate in the NFT IPO and others cannot access the sale. This is a requirement for the sale of potentially expensive NFTs and results in privacy for creators.
Some NFT projects create whitelists to access special content or services. This may include access to concerts, special events, exclusive products, etc. that are only accessible to owners of whitelisted addresses.
NFT whitelisting can be used to verify the identity and trust of users. By adding addresses to the whitelist, the project can ensure that the user's true identity is verified as one of the participants. In short, NFT whitelisting allows developers to control which addresses can access exhibitions, early public sales, and other project-related activities.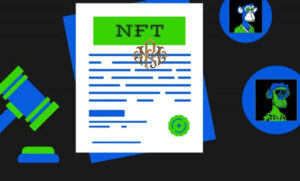 Teaching how to use the NFT whitelist
Using the NFT whitelist is very simple. In fact, this feature is available in many digital wallets and online exchanges. First, you need to create your NFT and specify which addresses are specifically allowed to access your NFT.
Then you need to whitelist your NFT using a usable controller. This controller must be able to create a white list. Now you need to enter the addresses you want to add to the white list. This can be done manually or using an automated script.
After the addresses are added to the white list. You must publish the controller so that others can access it. Finally, you need to expose your NFT using the controller and whitelist of your choice. It should be noted that using the NFT whitelist reduces many security issues, but security protocols such as 2FA, shortcodes, and other authentication methods should still be used.
Frequently Asked Questions
Can NFT be whitelisted?
You can use the NFT whitelist for your projects. Without a whitelist, anyone can access your project. This issue leads to user dissatisfaction and increased security risk in your project.
What are the advantages of NFT whitelist?
By using the NFT whitelist, you can have fine-grained control over access to your NFT resources and increase security.