According to the company's statement, PayPal USD is made for individuals who want to stay away from the volatility of other cryptocurrencies. In this post we go over of what PYUSD actually is.
What is PayPal USD
The PayPal USD (PYUSD) stablecoin is being launched by PayPal. According to the announcement, the main goal of the PayPal stablecoin will be to remove obstacles to virtual payments, particularly within blockchain ecosystems. The stablecoin has a few unique characteristics, including being exchangeable for fiat currency on the PayPal platform through a straightforward conversion process. However, it is currently only accessible to qualified PayPal customers in the United States.
In essence, PayPal USD is a stablecoin whose value is set at the value of the U.S. dollar, which serves as its underlying asset. A cryptocurrency that is tied to a fiat currency is known as a stablecoin. PYUSD is fully backed (collaterized), in the words of PayPal, by USD deposits, short-term US treasuries, and similar cash equivalents.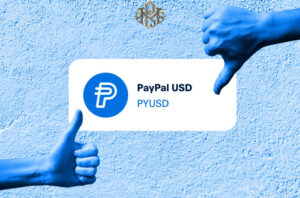 As a result, even when the value of other cryptocurrencies and the larger market fluctuates, the PYUSD pegging mechanism keeps the USD value constant. If a unforeseen circumstance results in the stablecoin decoupling from the correlated fiat currency, the reserves provide users with a guarantee that they will be able to exchange their stablecoins for the underlying assets.
PYUSD can be purchased and sold through PayPal's app or on the company's website, according to those who want to acquire it. PayPal has noted that users of the cryptocurrency can make purchases online using PYUSD at websites that accept PayPal USD transactions. This indicates that the consumer payment industry will probably accept cryptocurrencies. The coins can also be moved to cryptocurrency wallets like the Coinbase Wallet and MetaMask that accept PYUSD.
how does it work
The digital currency can also be used by PayPal users in the United States to purchase other cryptocurrencies that PayPal accepts, such as Bitcoin (BTC), Bitcoin Cash (BCH), Ether (ETH), and Litecoin (LTC).
There are no fees for users who want to send PYUSD funds to other PayPal users. There are, however, fees associated with converting PYUSD to other cryptocurrencies as well as making online payments and withdrawals. According to the business, users will be informed of the fees when trading cryptocurrency on the platform or making a purchase.