The price of bitcoin increased to its highest level in more than eight months on Thursday as BTC crossed the $25,000 threshold. The increase happened in the midst of additional regulatory crackdowns in the US, as officials were pursuing Paxos for its BUSD issuance. Over the previous week, Kraken's crypto staking ambitions came under scrutiny from the Securities and Exchange Commission, which mostly kept BTC price movement flat.
The greater highlight of the week was when Bitcoin crossed the $25,000 barrier. By Wednesday and Thursday, BTC increased 10%, and its strong price movement helped key tokens like ETH, ADA, and MATIC enjoy double-digit increases for the week.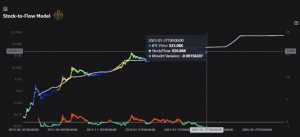 Most profits were made by CloutContracts. The native token of the project, CCS, increased about 17-fold within the week. Further notable gainers were FLOKI, BOTTO, VELA, and TRU. After the SEC's legal action against Paxos and BUSD, the latter's stablecoin TrueUSD saw a $50 million mint, which contributed to its price increase.
The price of bitcoin retraced to around $24,000 by the conclusion of the week. Bitcoin saw a decline after failing to overcome price-level resistance at $25,200.
Crypto stocks
This past week, the stock prices of publicly listed cryptocurrency firms largely increased. MicroStrategy had a 22% increase in value, adding $53 to its stock price before closing the week at $294.
To finish at $65.20, Coinbase increased by 17%. The increase coincided with fresh interest from Ark Invest, owned by Cathie Wood. The investment company increased its exposure to COIN by purchasing more Coinbase shares for $6.7 million.
Although Silvergate's price behavior was more erratic, it too finished the week in the black. At midweek, the cryptocurrency-friendly bank's stock price increased by 28.5% to $22. After this run-up, there was a sharp pullback that saw prices drop as low as $17 on Friday before completing the week slightly under $18. Last week, it was reported that the bank, which is now involved in the FTX collapse story, enabled financial transfers between Binance International and Binance.US.
Macro matters
Last week, the U.S. Labor Department released the January consumer price index data. According to the study, monthly inflation increased by 0.5%, bringing the annual rate to 6.4%. This indicates that year over year U.S. inflation has decreased for seven months in a row.
Before the report, equities and cryptocurrency tokens fluctuated, although they eventually tended to rise. The increased regulatory attention in the U.S. has so far generally had little impact on speculation in the cryptocurrency market.