American securities markets are subject to regulation by the Securities and Exchange Commission. The SEC has adopted a cautious approach to regulation when it comes to cryptocurrencies, designating the vast majority of them as securities and subjecting them to federal laws.
The U.S. government agency published its annual assessment goals for how it will monitor emerging risks, with a focus on managing cryptocurrency assets.
The Division of Examinations announced its targets for 2023 in a statement on February 7, saying that brokers and advisers working with cryptocurrencies will need to be more cautious when providing, selling, or recommending digital assets.
SEC Ramps Up Inquiry On Entities Dealing In Crypto
By categorizing the bulk of cryptocurrencies as securities and enforcing federal restrictions on their sale and trading, the regulator has chosen a responsible approach to regulate cryptocurrencies.
Broker-dealers and investment advisors that make use of cutting-edge financial technology, including cryptocurrencies, will be assessed by the exams unit.
Examiners from the agency will assess whether these intermediaries follow the necessary "standards of care" for investors and if they regularly review and update their risk management systems, per a news release.
This statement was in line with the commission's objectives from 2022, in which it requested that firms that issue securities inform investors of their exposure to the risk associated with the cryptocurrency market.
The Investment Advisers Act of 1940 requires investment counseling organizations to be licensed to provide client custody services and to adhere to custodial safeguards.
Protecting Investors?
As chairman of the SEC, Gary Gensler has long regarded the bulk of cryptocurrencies as securities that may be examined and regulated.
Asset ownership, a debt, or the right to asset ownership are all represented by securities, which are monetary objects. Securities may be defined as marketable financial items whose value changes in response to supply and demand.
The agency's examination division's main mission is to protect investors in a time of growing markets, developing technology, and new kinds of risk, Gensler stated.
Nearly two months after FTX, one of the biggest cryptocurrency exchanges in the world, filed for bankruptcy, the US regulator conducted its yearly review. The failure of the exchange had an effect on more than 100,000 clients.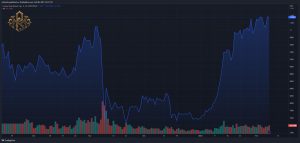 According to Richard R. Best, head of the Division of Examinations, the goals selected reflect a "changing landscape" and the hazards associated with it.
Best said that the agency will be better equipped to foresee potential hazards to investors and markets by keeping up with the most recent market movements.
Enforcement actions have also been brought against businesses and people for violating federal commodities laws in the market for digital currencies.