Shiba Inu, sometimes referred to as the "Dogecoin Killer," has been one cryptocurrency in 2023 that has generated continual excitement.
The second-largest meme coin has increased by a startling 74.41% since the beginning of the year, according to statistics from CoinMarketCap, as the cryptocurrency industry maintains its spectacular comeback.
The impending launch of Shibarium, a layer-2 network intended to lessen Shiba Inu's reliance on the Ethereum blockchain by processing a larger portion of transactions involving all Shiba Inu-based tokens – SHIB, LEASH, and BONE – thus leading to higher throughput and lower fees, has been a major source of interest in Shiba Inu.
According to the most recent Shiba Inu news, the token has increased by 14% over the past 24 hours, exceeding every other coin in the top 40 cryptocurencies ranked by market size.
A day after the Unification Foundation, Shibarium's co-developers, published an update on the layer-2 project, the price of SHIB recently rose, igniting interest among the "SHIB Army" of holders and devoted supporters.
Shiba Inu is now trading at $0.00001409 and has a daily trading volume of $1,138,725,144. With a market valuation of $7,735,163,773, according to further data from CoinMarketCap, SHIB is listed as the 13th biggest cryptocurrency on the market.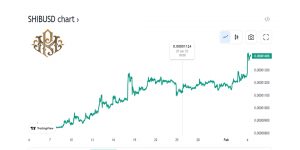 Shibarium Beta Launch Approaches
The Unification Foundation provided a much-needed update on the Shibarium project in a blog post on Medium on Friday, stating that the beta launch date is coming soon.
"Unification has always provided architectural development help for projects that we sponsor, and we are pleased to do so with our friends on this project. The statement added, "Given the magnitude, it would be folly to rush, but development is going well, and although the public beta network has not yet been launched, that day is gradually approaching ever faster.
Many members of the SHIB army anticipate that Shibarium will launch on February 14 even though neither the Unification Foundation nor Shiba Inu head developer Shytoshi Kusama have provided a specific date.
These rumors are widespread as a result of a now-deleted cryptic tweet issued by Shytoshi. "Quickly learning the flute before placing Shibarium in a heart-shaped box with a bow," the tweet's subject line stated.
Another Shibarium development referenced in Unification's blog post is the Oracle of Oracles (OoO) solution's successful testing on the Shibarium alpha network.
Price Prediction For The Shiba Inu (SHIB) In 2023
PricePrediction.net predicts that SHIB will exhibit a general positive trend in 2023. According to their price predictions, the meme coin may go as high as $0.00001960, representing a conceivable gain of 39.40% over the price at which it is now trading.
Coincodex believes SHIB will continue to trade in a profitable manner. If the token's growth is consistent with the anticipated internet evolution, Coincodex projects that SHIB might be trading with a market price of $0.00002005 by 2024.
However, as the cryptocurrency market movement continues to be influenced by a variety of factors that might cause significant losses, these Shiba Inu price predictions shouldn't be taken as financial advice. Shiba Inu, however, continues to be one of the most promising tokens of 2023, especially in light of its recent market performance and the imminent debut of Shibarium.