The move of the Reddit platform has caused MOON to suffer huge losses. In this Pooyan Music article, we want to examine the reason for the 90% fall of Moon currency (MOON) in more detail.
What was the reason for the 90% fall of Moon currency (MOON)?
The digital currency MOON, which is closely related to the famous platform and social network Reddit, has seen a 90% decrease in its value. After this incident, the crypto community has experienced a huge controversy. The price collapse of this currency, as seen in the recent trading charts, has confused many investors and enthusiasts. The movement of the Reddit platform was attacked by many criticisms.
The MON/USD price chart depicts a clear and severe bearishness. The decline represents a drop from highs of around $0.65 to a recent low of around $0.05. Such a sharp and deep descent inevitably raises questions about the causes of this free price fall.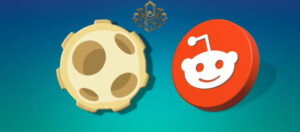 Removing community points from Reddit and its consequences
An in-depth look at the reasons for this sharp decline is related to Reddit's recent announcement. The platform announced its decision to remove Community Points beta by early November. This news means that users will no longer earn more points in their reddit fund. This news is important. Because the community points system was one of the main tools of MOON. It was this system that increased demand and motivated user interaction on this platform. MOON's intrinsic value depended on this ecosystem in many ways.
Reddit cited scalability limitations and evolving regulatory pressures as the main reasons for the community points system being discontinued. The inability to scale the product to meet demand across the platform and the decision to use resources for other features like the Contributor program and the karma subreddit rubbed the community the wrong way.
Looking again at the chart, it is evident that the trading volume has increased significantly during this bearish period. This increase in volume can be interpreted as an exodus or massive selling by frustrated investors trying to cut their losses. Long bearish candles, combined with high trading volume, paint a picture of dire selling. This, in turn, causes further reductions
what is your opinion? Have you used the Reddit ecosystem and community points?